When you want to have a clear and zoomed view of the things that are not within the reach of your eyesight, get a pair of binoculars. However, buying binoculars with good features and quality doesn't necessarily have to break your bank.
Keeping this in mind, we've researched for days looking for budget binoculars that meet our standards. Finally, we handpicked ten of the best binoculars under $100 that are currently available in the market.
Each of the items below was chosen carefully and none lacks when it comes to any of the major specifications. So, no matter what you pick, it will serve you well.
10 Best Binoculars under $100
Have a look at our reviews and find great value from any one of these sustainable, and affordable binoculars.
Kicking off our first below $100 binocular review with Vortex Optics Porro Prism. The brand Vortex has taken the Porro prism performance to a whole new level with wide-angle designed optics. On top of that, their high-quality fully multi-coated optics within the mid-level price range has attracted many enthusiasts.
The Raptor 8.5X32 features the traditional Porro prism assembly with an immersive three-dimensional observation experience. Porro prism construction requires fewer light reflections to get you an upright image.
So, when you're using it during the daytime, the clarity and brightness become extraordinary. Besides, its improved depth of field can challenge similarly sized roof prism designs as well.
This Vortex Optics Porro Prism comes with a wide-angle design giving you 390 feet field of view. Perfect for viewing stadium sports action, this binocular's wide adjustment range can also be comfortably adapted to your needs.
In other words, it has a wide IPD or Interpupillary Distance range of 50 to 70 mm. this means even children with very narrow IPD who often have difficulty with full-sized binoculars can view perfectly with this one.
The binocular has a sealed housing which makes it water, fog, and dust resistant. Moreover, the O-ring seal keeps out water and dust while the Nitrogen purged makes it fog proof.
This Raptor binocular also come with tethered objective lens covers. It has a lightweight design that reduces strain from your eyes, hands, and neck.
Pros
Provides 390 feet wide field of view
The IPD range is wide from 50-70 mm
Fully rubber coated body for easy gripping and protection
Completely water, dust, and fog proof
Enhanced resolution and contrast due to phase correction coating
Cons
It is not tripod adaptable
Not very suitable for adults with very wide IPD
Another high-quality binocular within an affordable price limit is the Celestron Nature DX. It has been maintaining a long-standing tradition in the brand and is known to provide unrivaled quality due to premium design with multi-coated optics.
These binoculars are well worth their low cost, and the value for money is simply outstanding. Suitable for both beginner and intermediate level users, the Celestron Nature is currently the fan-favorite.
Nature DX 8×32 comes with many amazing features like close focus zoom. This zoom helps you with easy focus on an object which is nearby for a more in-depth examination. If you're avid bird water, this feature will be the thing you can fall in love with.
Additionally, this binocular also contains Nitrogen in the lenses that help to prevent any fogging inside. It also stops any deterioration to form inside. Although this has become a common feature among many binoculars nowadays, it certainly is very useful and can make a big difference.
The twist-up eyecups help in positioning the binocular in a way that suits best for the user. If you're wearing glasses, these eyecups can be used wearing them as well.
One of the most important features of this Celestron Nature DX is the phase-coated BAK-4 prism and the multi-coated optic. They help establish the crispiest image quality with the perfect resolution to contrast balance.
Besides, the multi-coated optics increases the light levels inside, creating higher image quality. This means, even in low-light conditions, the image quality will still be impressive.
As for the design and build quality, the binocular has been made lightweight to strike the perfect balance with its size. It can withstand almost every weather condition as well. The all-around rubber-armor coating makes it resistant to water damage and allows easier grip.
Check Price On Amazon
Pros
A perfect companion for avid bird watchers
Incredible flexibility due to wide FOV and close focus zoom
Lightweight and compact design
Phase-coated BAK-4 prisms bring a well-defined overall image
Cons
The image gets a bit blurrier farther away from the center
Originally owned by a Chinese company named Hu Shuqing, the Gosky company is currently placed in the US that has been operating in the optics market there since 2004. In recent years it has gained considerable praise from customers and outdoor enthusiasts.
Their Gosky Roof Prism binocular has been made astonishingly affordable due to the modern production facilities. It has also been built robustly for beginners who love observing nature, not expecting the highest optical performance at this affordable price.
When you look at this product, the first impression would be pretty good due to its compact size, lightweight, and rubber-armored housing for good grip. The optic is fully multi-layer coated with 18mm blue film eyepieces. As a result, the images appear crisp with optimal light transmission.
Moreover, its large smart-phase BAK-4 prisms come with dielectric coatings. This assures high reflectivity across the full visible range. And the resultant image becomes bright and clear.
Interestingly, the Gosky 10×42 Roof Prism Binocular also features a smartphone adapter that is compatible with both iOS and Android devices.
This adapter attaches over one of the eyecups with the phone's camera. As such you can record the view with your camera through this binocular to share with your friends and family.
Although its housing is made of aluminum alloy, it is not O-ring sealed. This means it won't be waterproof, but it can withstand moderate rain.
All in all, this binocular will feel great in your hand and help you look at a long distance. Especially, the impressive field of view will allow to watch birds up to one thousand yards.
Check Price On Amazon
Pros
Full multi-layer coated lens with BAD-4 prisms
307 ft. large field of view
Includes smartphone adapter for both Android and iOS
Features tripod adapter connection
Cons
Not water-proof due to not being O-ring sealed
When you're looking for waterproof binoculars for use in harsh conditions, Bushnell H2O 10×42 Waterproof Binocular is the perfect pick. Made by an industry leader in high-performance sports optics, it is Bushnell's of the most trusted products.
This H2O comes with a 10×42 model. Here the 10x magnification ensures that you identify the target over a large distance. the 42mm objective lens keeps things bright by allowing lots of light.
Bushnell H2O features O-rings and nitrogen purging systems. Therefore, it stays dry while delivering good optics and stunning views. It also makes the binoculars completely waterproof and fog proof. This is a major concern for hunters during adverse weather conditions.
The H2O also offers you Bak-4 roof prisms with good light gathering capabilities. It maximizes light transmission as well as clarity. As a result, you get images with exceptional brightness, sharpness, and clarity.
Moreover, the individually coated lenses are multi-coated improving the overall image quality as well. It also minimizes glare by improving the light transmission.
Built to withstand very harsh hunting conditions, the H2O is built with lightweight aluminum chassis. This allows comfortable viewing in the field.
The armor is coated with tough rubber to help you keep the grip firm and provide cushioning during occasional drops. It can absorb much of the shock resulting from bumping into things.
Pros
Light transmission is excellent
Toughest hunting binocular
Heavily water and fog-resistant
Adjustable long eye relief is ideal for hunters with glasses
Cons
Takes longer to focus under challenging conditions
The Nikon 8245 ACULON is an all-weather-proof binocular able to perform in the most rugged environments and unfriendly weather conditions. Designed to be comfortable and easy to use, this binocular can be used in different settings.
It has a rugged design that makes it very durable to hold up under harsh conditions encountered by hunters.
ACULON has glass and lenses with a unique design that sets it apart from the rest. They are made with specially treated spherical eco glass that provides multiple benefits.
Firstly, it is free of arsenic and lead that is not friendly to the environment. In addition, this specialized treatment enhances the viewing experience as well.
Furthermore, the product is also crafted with Aspherical eyepiece lenses that can provide a flatter field of view by minimizing spherical aberrations. These lenses can correct astigmatism better than other lenses as well.
You don't also have to worry about fogging the lens due to the anti-fog coating on them. This coating helps you spot animals in the wild from distance, even under changing temperature conditions or humidity levels.
There is a protective rubber coating that makes this Nikon ACULON comfortable to the eyes, and this eye relief is a good fit for most average-sized users.
As for the prism design, it is Porro rather than Roof. Although roof prisms get a lot of attention these days, Porro prisms can be superior as it has fewer reflections to make in the light path. That's why you get a deeper image with 3D effects.
Check Price On Amazon
Pros
Build lightweight with ergonomic design
Holds up well under rugged conditions
Aspherical eyepiece lenses provide a flatter viewing field
Eco-glass lenses bring sharper images and reduce image distortion
Cons
Sometimes there is blurring and image distortion around the edges
This product from Celestron has been designed to meet the needs of most outdoor enthusiasts. The Outland X provides you with a combination of powerful optics with a premium build design.
With the inclusion of close focus zoom and many other features to provide you with the best of images, this is a fantastic choice if you expect to receive fantastic value for the money.
The Celestron Outland X strikes an excellent balance by offering a lightweight and compact design with durable construction material. Its size is very useful to fit into a large pocket. So, you can easily take it anywhere you like.
There is rubber-armor coating overall the binocular giving you an incredibly durable vibe. This armor protects the item from most weather conditions.
Fully waterproof and damage resistant, the Outland X features many other features to tweak performance. It has a large focusing knob that allows you precision focusing.
Moreover, the twist-down eyecups provide eye relief to void any potential eye strain after long-term usage. Besides, this also works perfectly with those wearing glasses.
The optics are multi-coated, increasing the rate of light transmission. So, as the light increases, the image becomes more defined.
Furthermore, its color fidelity is greatly enhanced due to the BAK-4 prisms allowing true representation with a more precise image and high-class performance.
This binocular has a field of view that is linear at a 1 km distance which I valued at 98 meters. Therefore, if you're opting for a small magnification, the power on this item will offer a larger FOV.
With all these outstanding features, the Outland X feels like it is mostly suited for birdwatching. However, although its multi-coated optics will provide you with fantastic image quality, there might be some color fringing at the side of the lens, which isn't noticeable much.
Pros
Lightweight and solid build for rough weather
Waterproof and fog proof
Non-slip armored construction
Twist down eyecups provide great eye relief
Cons
Not well suited for people with a large pupillary distance
Created specifically for all the bird watchers, Wingspan Optics offers the best binoculars within a budget price. Engineered to achieve high-quality and superior functionality,
Every aspect of this optics has blended both style and performance. The Voyager 10×42 is one of the top waterproof binoculars under $100 that gives you everything you need to get the experience you crave.
This compact UltraHD Voyager is for all types of birdwatchers, from serious ones to beginning enthusiasts under all types of weather or terrain. Designed to go from wide view to the sharpest focus in seconds, the Wingspan Optics delivers powerful images all the time.
The lenses are 42mm fully multi-coated to deliver your bright images and color fidelity. It also features roof prism BAK-4, which adds more quality to the crispy image.
Wingspan Voyager is Nitrogen purged, which means it is also fully waterproof. So, you can use it even during heavy rain.
Weighing only 1 lb., the binocular is very lightweight to carry around without trouble.
Pros
Sharp and crisp image for birdwatchers
42mm multi-coated lens for added brightness
Fully waterproof and fog proof due to Nitrogen purged
Anti-slip grip for better handling
Cons
Sometimes focusing takes time
This pair of binoculars is designed for high-performance usages like viewing astronomical objects, long-distance land viewing, and the likes of these. Such high-powered precision binoculars are engineered to meet the demands of people who like magnification boost for watching very far distant objects.
The main body of this Celestron Skymaster is pretty traditional-looking. It features very large 70mm objective lenses and long barrels with a large centrality located focusing wheel.
Such a design makes for a comfortable holding position preventing fatigue while using for a long time. When you want to spot aircraft, meteors, or other celestial bodies, this Skymaster will provide a good service.
The 71008 features lenses that are designed to provide you with the clearest and sharpest of images due to specialized treatment in multiple layers on them. Besides, this high-quality image is also produced due to the twilight factor of 41.83 enhancing night viewing.
Additionally, the high-quality BAK-4 prisms also increase the integrity of the color distribution and lessen distortion. Finally, you get a crisp and clear image no matter what distance you look.
This binocular is also tripod adaptable. While looking at a very long distance, having a stable platform results in a shake-free view. It also takes the weight off of you enabling you to relax.
As for the interpupillary distance, it can be adjusted from 7.2 cm to 5.6 cm, which matches most people.
However, a common issue for such long distant viewing binoculars is that there is not enough distance to comfortably use them with eyeglasses. Fortunately, this Celestron features 13mm eye relief which makes with ideal for those with glasses as well.
Pros
Perfect budget-friendly binocular for viewing celestial objects
Comes with a tripod adapter and convenient carrying case
Traditional looking design to reduce fatigue of long-term usage
The eye relief is suitable for those with glasses
Cons
Not fog-proof if there is a lot of moisture in the air
Bushnell binoculars are made to observe nature and sports for their lovers. Besides, their binoculars are also used for a wide range of tasks such as hunting, marine, birding, travel, etc.
Among the many models available, their PowerView has become a constant favorite for most outdoor enthusiasts as a powerful yet affordable instrument. With a 10×50 wide angle binocular, it produces 10x magnification combined with a very wide field of view.
Its high light-gathering power enables you with detailed observation of anything you wish.  The field of view of this PowerView is about a thousand-yard which is an excellent value for its price range.
Ideal for detailed scanning of wide-open areas even in low light conditions, the Bushnell PowerView features 50 mm objective lenses with an exit pupil of 5mm.
Besides, the fully multi-coated lenses can be used for as long as the eyesight allows even under dark. These full coatings also guarantee superior light transmission level delivering crisp and clear images.
Especially the device's InstaFocus feature is for central focusing of the left eye which is a patented single touch system. It assists in maintaining the viewed object with high contrast and minimal color aberrations.
Finally, the eye relief — which lacks a little compared to competitors — should serve most users just fine. Its fold-down eyecups also ensure a comfortable viewing experience.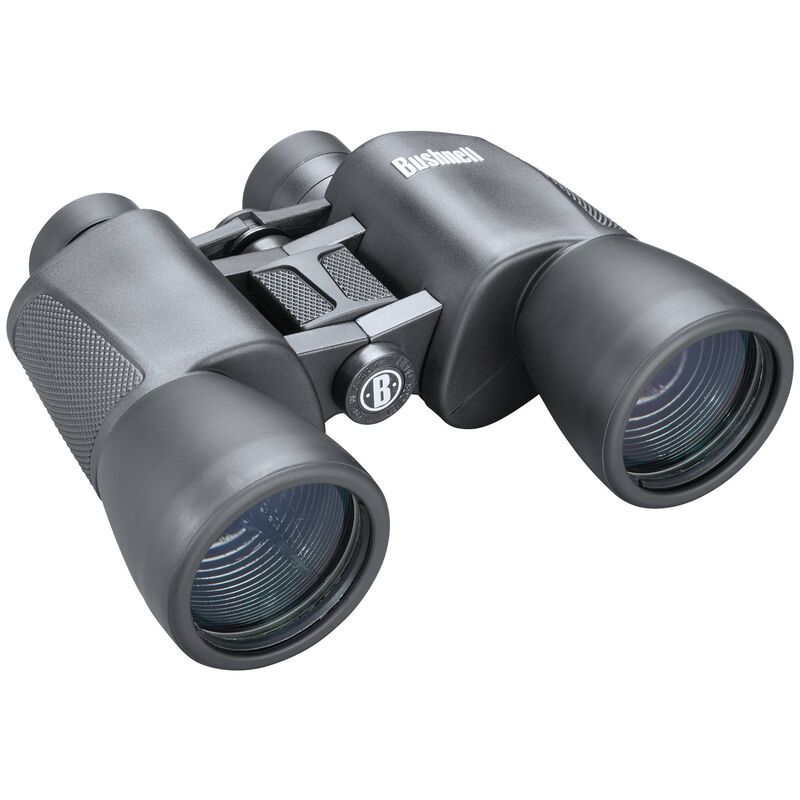 Pros
Effortless focusing with InstaFocus
Good zoom with object lens size for a clear and wider image
Greatly useful for birding and sports events
The crisp and bright image even in darker conditions
Cons
It falls short in terms of waterproofing
Our last item is a nice-looking entry-level to intermediate pair of binoculars from Leupold. The BX-1 is an excellent choice for a shopper on a budget who wants to get into hunting, birding, or watching events.
In terms of the design, it is small in size but quite large in quantity. Having an ergonomic slim, and lightweight design made of an aluminum body, the binocular fits well in your hands.
The rubberized exterior gives you're a firm grip and protects the instrument from wear and tear. You can use them for hours without feeling fatigued.
Leupold BX-1 is equipped with an advanced optical system with a multi-coated lens that guarantees clear images. The BAF-4 prisms also provide sharp images of the surroundings.
In addition, the reverse Porro design delivers a bright image quality. Although Porro prisms are known for being heavier and bigger, the BX-1 still can maintain its size compact.
All of these optical excellencies together ensure a clear image with all the visible colors having excellent contrast and accuracy.
This pair of binoculars is also fog and waterproof that won't let any moisture distort your view.
Check Price On Amazon
Pros
BaK-4 prisms deliver excellent performance in low-light conditions
Able to focus fast and accurately with quick adjustments
It has a fairly small profile with an ergonomic design
Fully multi-coated lenses provide maximum light transmission
Cons
It is a small objective lens which might not be suitable for big hands
Conclusion
Finally, we can say that buying a budget pair of binoculars doesn't really mean hampering the viewing experience. However, you might need to put a little more care to manage these budget pairs.
The ten selected models are what we think are the best binoculars under $100 at the moment. Hopefully, the reviews have helped you find the model that suits you most.
Read Also: